Commercial Chain Link Fences

When you have commercial chain link everything is usually heavier then most good quality residential fences, the Top rail is 1 5/8" 16 gauge(.065). Line posts are 1 7/8" or 2 3/8" 16 gauge(.065).

Our fabric is 11 gauge wire mesh with 2 inch squares and 9 gauge heavy duty wire ties to support the fabric.


Steel eye tops, steel rail ends, thicker pipe
if you intend to install slats this is available as an upgrade so that the wind will not blow over your fence.

End and corner or (terminal) posts are 2 3/8" CQ. Posts are spaced approximately every 10', every post gets concreted.


A heavy 9 gauge tension wire installed along the bottom of your fence is also standard for a commercial fence, this is a great idea if you have animals or people you want to keep in or out or want to strengthen your fence from anything crawling under.


3 strands of barbed wire
This may also be added to the top of your fence at time of installation, it requires a different larger eye top to support the wires called a
Steel barbed arm
These are available in straight up or at 45 degree angle, when using a 45 degree angle make sure your fence is set inside the property line as not to encroach on your neighbors property.

Razor wire can also be used, it is more costly and does not look as nice, it also has fish oil on the surface so if someone attempts to climbs it and gets cut they get an infection and have to receive medical treatment.


Commercial Gates
We offer a commercial single swing, double swing, cantilever or roll gates
Commercial gates are 1 5/8 frame
With 11 gauge wire mesh and tension bands and bars for connecting the fabric to the gate, double drive gates have an option for a heavy duty drop rod that hold the gate closed in the center position.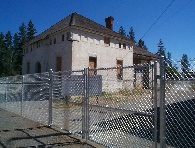 Double Drive Commercial gate, Old jail in the town of Rathdrum Idaho, after many years of keeping bad people in, it was finally fenced to keep bad people out.







Walk Gate With Heavy 9 Gauge Fabric in Otis Orchards, Spokane Valley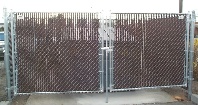 Double Drive Commercial Gate by the Valley Hospital off Mission Ave





Walk Gate With Barbed Wire at the Old Jail in Rathdrum, Idaho

Gates for Storage facilities or trucking companies
In addition to single walk and double drive gates, several types of sliding gates are available for commercial and high security applications.


Sliding gates
Are used where there is no room to swing the panel of a single or double gate. In areas where snow and ice are not a problem rolling gates are not recommended.


Rolling gates
These roll on a pipe track that is attached by track brackets to the gate post and line posts and is on a ground carrier that is attached to the front of the gate. Sliding gates are made from 1 5/8 or 1 7/8 diameter frame work.


Single and double drive gates
these are always welded.


Cantilever gates
These are 2 3/8 inch diameter and ride on steel wheels, these gates do not touch the ground and are generally used for large facilities or commercial self storage units.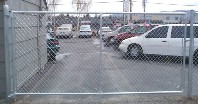 6 Foot Tall Single Swing Gate With Heavy Duty Bull Dog Hinges And A Gate Keeper

We also handle a complete line of residential and commercial gate operators that can be used with any of the gates mentioned.

For security, barbed wire or barbed tape can be added to all types of gates.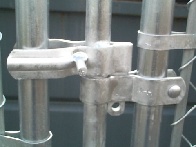 Heavy Duty Drop Rod Latch Assembly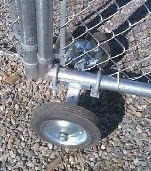 Standard Wheel Assembly For A Roll Gate

Wheel track assembly for a roll gate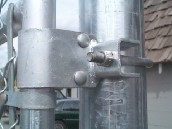 Heavy Duty Bull Dog Hinges
Automatic Cantilever Gate and Access or Key Pad, Remote Control Features
If your business has high traffic or where snow and ice are a problem cantilever gates a generally used.

A cantilever gate is 1 1/2 times the length of the gate opening and is suspended by four malleable rollers, which are attached to two posts. Rollers are attached to the gate and first line post, one at the top and one at the bottom of each post; this allows the gate frame to slide between the rollers.

Cantilever gates are very heavy and are usually installed on two 4 inch diameter posts and constructed from a 2-3/8 inch diameter top and bottom rail.

Wireless access to automated gates in slide, swing, or barrier styles, We offer the most comprehensive collection of access controls and gate automation equipment for your residential, commercial, or industrial needs.

We offer a variety of operators and gate styles in chain link and ornamental and can supply a number of
Access controls, including keypad, telephone, and card readers
Along with emergency devices and additional accessories like ground loops and CCTV cameras.

Chain-Link Cantilever Slide Crash Gates Chain-Link Crash gates are ideal for installations requiring vehicular intrusion protection: government facilities, airports and embassies. Steel W-beam and concrete bollard's restrain vehicle entry when gate is closed.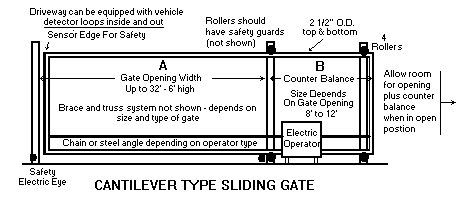 Cantilever gate rollers are available for sale
We also offer a
Maintenance service on you cantilever gate roller
we grease and inspect them quarterly for $19.99 per quarter or $75.00 for a yearly contract, which includes 4 times a year, Spokane County only.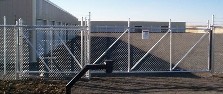 Cantilever Gates and Automatic Operator in Spangle WA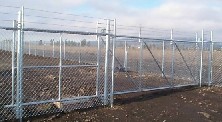 Cantilever Gate in Liberty Lake WA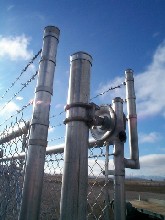 Automatic Gate
Controller in Spangle Washington