1. General Fence FAQ
2. Vinyl Fence FAQ
3. Chain Link Fence FAQ
Which side of the fence do I put the posts on?
Normally they go on the inside of the fenced area. For residential fences, they should go on the inside so the neighbor and the view from the road has the nicer looking side.

In some building codes and home associations, this is not optional. You must face the best looking side of a fence towards the road and your neighbor.


Should I put my new fence on the property line?
We recommend that you set your fence in approximately 6 inches from your property line, so that all of the cement is on your property.

The exception here would be if both neighbors are paying for the fence together, then if agreed upon by both parties the fence line may be put on the property line.


How do I find my property line?
Most of the time your property line can be found by locating your survey markers. They are usually a piece of re bar with a yellow, orange or red plastic cap on top, they are put in when your property is surveyed.

Sometimes they get buried in the ground or even removed. If you cannot find them, a surveyor may have to be hired, or you can check with your builder and your neighbors to see if they know the location of the survey pins.


What is the distance around my property?


Footage Guide For Perimeter Fencing Of Square Acres

1/4 Acre ..... 417
1/2 Acre ..... 590
3/4 Acre ..... 722
1 Acre ...... 834
2 Acres ..... 1182
3 Acres ..... 1446
4 Acres ..... 1670
5 Acres ..... 1867
6 Acres ..... 2046
7 Acres ..... 2208
8 Acres ..... 2361
9 Acres ..... 2504
10 Acres.... 2640

Calculation Guide

1 rod = 16 1/2 feet
10 rods = 165 feet
20 rods = 330 feet

1/4 mile = 1,320 feet or 80 rods
1/2 mile = 2,640 feet or 160 rods
1 mile = 5,280 feet or 320 rods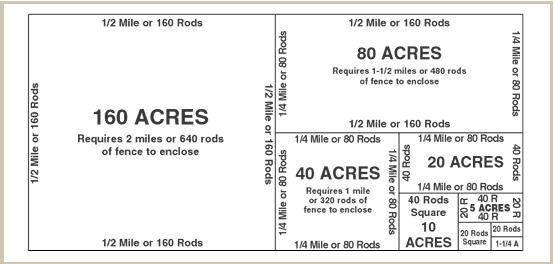 These numbers are only for perfectly square property's, if your piece is rectangular or pie shaped it will lengthen your numbers.

Example, a 10 acre piece that is most commonly rectangular 330 feet by 1320 feet will be about 3300 feet instead of 2640 feet.

What is Legend Premium Vinyl made of?
Legend is made from rigid Polyvinyl Chloride (PVC), an extremely versatile thermo plastic that is extruded for superior performance, stability, weather ability, low maintenance, and long life.


How popular are vinyl building materials?
Polyvinyl Chloride (PVC) is used in virtually every industry. Because of its low maintenance and durability, vinyl is a popular alternative for products normally constructed of wood-such as fences, gazebos, decks, siding and window frames.


How is Legend Premium Vinyl made?
The two most common methods for manufacturing vinyl fencing are a mono-extrusion process that uses one vinyl compound and a co-extrusion process that uses two or more vinyl compounds.

The co-extrusion process lets a manufacturer engineer a product with greater strength and durability. The best products are made from virgin vinyl, which ensures that the product is made using raw material most appropriate for its application.

For vinyl to have the characteristics necessary for fencing, it must be combined with special additives and modifiers to make it strong and durable. The formula that contains UV inhibitors that guard against the sun's harsh rays and additives that make the vinyl rigid, yet flexible enough to resist cracking.


How safe are vinyl fence systems?
Unlike some treated wood fencing, vinyl is an environmentally safe material with no toxins to pollute the sky or seep into the ground. Vinyl fencing has a smooth surface and there are no nails, sharp edges or splinters.


Aren't all vinyl fences the same?
No. Vinyl fence system components are available in a wide range of sizes and thickness. To reduce costs, some manufacturers decrease their wall thickness, resulting in reduced strength and ultimately yielding inferior fence systems.


How are Legend Premium Vinyl fence systems installed?
Legend vinyl fence systems install much like a wood fence. The posts come routed from the factory and the components are pre-cut for standard installation. Rails are inserted into the routed holes in the posts.

The heavier wall post and rail configuration along with the notched rails contributes to greater resistance to pull out and stronger fastening for better performance. Post caps are attached after the fence is installed.


Will vinyl be more expensive than wood?
A wood fence system may initially cost less than vinyl, but wood systems require maintenance. Conversely, vinyl fencing has almost zero maintenance cost, particularly compared to painted wood fences.

Unlike wood, vinyl isn't subject to termite infestation, which can increase the likelihood of costly partial or full replacement of a wood fence system. Although your initial investment may be more with vinyl, the cost difference is quickly eliminated when you consider the substantial cost of maintaining a wood fence.


Will a quality fence cost more?
Yes. Good-quality material and workmanship always costs more than sub-standard products, while labor, concrete and building materials cost the same regardless of the chosen material quality.

Although a sub-standard product may cost less, the risk of future maintenance and/or replacement cost outweigh any benefits the lower price may seem to offer.


Are all product warranties the same?
No. A warranty is only as good as the company that stands behind it. The fence industry has seen products and/or companies enter the market, only to leave home owners with a worthless piece of paper as a product warranty.

That's why you should check out the reputation of the company offering the warranty, just as you would when choosing the right contractor.


What does the "Lifetime Warranty" mean?
If the vinyl fencing should ever discolor, peel, rot, pit, blister, warp, rust, flake, crack, corrode, or be damaged by insects it would be replaced the factory free of charge (Does not include Labor-Materials only).


How long has vinyl fencing been around?
Vinyl fence has been available since 1984 (over 22 years). It is the fastest growing product in the fencing industry with sustained annual growth at 30% plus.


How strong is vinyl fence?
It has five times the tensile strength of wood and four times the flexibility. It flexes under load making it strong enough to safely hold cattle and horses.

Our manufacturers use impact modifiers to make our fence strong and forgiving for horses and riders as well as other farm animals. (Ranch rail).


Can I install the vinyl fence myself?
If you can use a level, a tape measure, a post hole digger and a sting line- and are willing to take the time to do the job right - you can probably do the job yourself.

We have written instructions available. For the larger jobs some people like to hire a professional for the hole drilling or the entire job.


How does vinyl fencing compare to wood?
It is stronger, lasts much longer, safer, looks better, and costs much less over time. It can cost the same as or more than wood initially depending local wood prices, type of wood and style of fence or deck but over its life it is about one third of the cost.


How do you set the vinyl posts?
The posts are set in concrete in the ground from 24 to 30 inches deep and in some cases cement is put inside the posts with re-bar for exceptional strength. (This is not recommended for livestock because it makes it too strong). The flexibility is what you want.


Can I paint vinyl fencing?
Paint doesn't adhere well to the surface which is good in the case of graffiti, but bad if you like to paint things. The color of the vinyl goes all the way through so it can't be scratched or chipped off which means it will never need to be painted.


What is Chain Link Fabric?
Fabric comes in a variety of gauges. Gauge is the diameter of the wire; the higher the gauge number, the smaller the wire diameter. Standard mill diameter tolerance is + or - .005". Common gauges and diameters are as follows:

6 gauge=.192"
9 gauge=.148"
11 gauge=.120"
11 ? gauge=.113"
12 gauge=.106"
12 ? gauge=.099


Chain link fabric is available in heights of 36", 42", 48", 60", 72", 84", 96", 120", and 144". The fabric is formed by weaving a series of spirals together. How the top and bottom of fence is finished is referred to as the selvage.

Fences less than 72" must knuckle both ends by industry standard (KK). Heights of 72" and higher, are generally twisted or barbed at one end and knuckled (BK) on the other. For high security enclosures, chain link can be obtained with both ends twisted or barbed (BB).

Zinc coatings may also differ. There are two different processes for applying zinc to wire. Galvanized after weaving (G.A.W.) is a process in which wire rod is drawn to the finished gauge, then woven into chain link fabric.

The fabric is then pulled through a pot of molten zinc. This process applies 1.2 ounces of zinc coating per square foot of fabric and conforms to ASTM standards.

The other process for applying zinc coating to chain link is called galvanized before weaving (G.B.W.). In this process the wire rod is drawn to gauge, and the strand wire is then pulled through a pot of molten zinc.

The wire is then woven into chain link fabric. Generally chain link fabric made using this process carries a zinc weight of .8 ounces per square foot or less.

The distance between two parallel wires in the fabric is referred to as the mesh size. The most common mesh sizes are 2" or 2 ?", but smaller mesh of 3/8", 5/8", 1", 1 ?", 1 ?" and 1 ?" are available for projects that require a higher degree of security.

The quality of chain link fence fabric is determined by both the gauge of the wire and the weight of the zinc coating applied to the wire.

The American Society for testing material has established standards for residential and commercial chain link fence fabric under designation A 392-96.


What is Frame Work?
Frame work is the tubular steel frame that chain link fabric is attached to. The frame work is comprised of three components; top rail, line posts, and terminal posts.

Terminal posts are set in concrete and are end, corner, and gate posts. Line posts are smaller in diameter than terminal posts and are the intermediate posts between terminal posts. These should also be set in concrete.

The top rail is attached to the terminal posts and passes through fittings which are attached to line posts. This provides a horizontal frame that supports that fabric.

The chain link fence frame work is also zinc coated to provide protection against corrosion. There are two methods of coating tubular products. In the first method, coils of steel are slit to the proper width, then formed into pipe and the seam is welded.

After the pipe is formed, the pipe is then taken to a pot of molten zinc and submersed. Both the interior and exterior of the pipe are zinc coated. This method is referred to as the hot dip process.

In the second method, the slit to width coil of steel is formed into pipe and then seam welded. The pipe then passes through an in line vat of molten zinc, which coats the exterior with zinc.

A clear organic coating is applied over the zinc, providing additional protection from corrosion. The interior of the tubing is coated with a zinc rich paint. This method is referred to as in line, flow coat galvanizing.

Both methods of manufacturing conform to ASTM F669-92. The quality of tubular products is relative to the thickness of steel, as well as the zinc coating.


What are fittings and how are they used?
To assemble a chain link fence system several types of fittings are required. Fittings can be classified into three types; those used in the line of fence, those used on terminal posts, and those used in conjunction with gates.

All residential fittings are made from a die cast aluminum or steel that has been galvanized. Industrial and commercial fittings are made from galvanized steel, cast iron, or malleable steel.

Fittings are an integral part of the fence, as they secure the components of the fence system. Gate fittings are especially important. The gate is the only part of the fence that moves and that people come into contact with on a regular basis.

It is very important that they fit and do not move on the gate post once installed. This will keep the gate from sagging. For security, barbed wire can be added to all types of commercial projects. Fittings should conform to ASTM F 626-96.


What types of residential gates are available?
For residential applications two types of gates are commonly used; single walk and double drive. Single walk gates are generally used for people to pass through, although they can be made up to 12' wide and are the same height as the fence.

It is a single panel that is hinged from one terminal post and latched to another. Double drive gates consist of two panels that latch in the middle of the opening. Both single walk and double drive gates for residential enclosures are made from 1 3/8" diameter tubing. Bent frames with rounded corners, aluminum ell corners, and square welded corners are also available.

The quality of the chain link and frame work used should match the rest of the fence. Automatic closing mechanisms are available to shut and latch the single walk gate after passage.


Are there different types of gates for commercial projects?
In addition to single walk and double drive gates, several types of sliding gates are available for commercial and high security applications. Sliding gates are used where there is no room to swing the panel of a single or double gate. In areas where snow and ice are not a problem rolling gates are not recommended.

Rolling gates roll on a pipe track that is attached by track brackets to the gate post and line posts and is on a ground carrier that is attached to the front of the gate. Sliding gates are made from 1 5/8" or 1 7/8" diameter frame work. For security, barbed wire or barbed tape can be added to all types of gates.

Commercial single and double drive gates are usually welded, but can also be made with gate ell's.

In area where snow and ice are a problem cantilever gates a generally used. A cantilever gate is 1.5 times the length of the gate opening and is suspended by four malleable or nylon rollers, which are attached to two posts.

Rollers are attached to the gate and first line post, one at the top and one at the bottom of each post; this allows the gate frame to slide between the rollers. Cantilever gates are very heavy and are usually installed on 4 or 6 inch diameter posts and constructed from a 2-3/8" diameter top and bottom rail.

We also handle a complete line of residential and commercial gate operators that can be used with any of the gates mentioned, available through ornamental gate.


Are products warranted?
Our galvanized systems are warranted for 5 years through the manufacturer, a mail in card is required to activate warranty, please inquire.