Deer Fence Heights of 6 ft. to 8 ft. is recommended for gardens

This fence is ideal for keeping predators out of orchards, vineyards and gardens. This is a cost effective way to provide protection from deer, elk, moose damage.


This can be done with a top rail and chain link line posts for a nice look or just t-posts with angle braces for the ends and corners.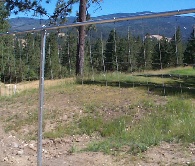 72 inch Deer Fence With Galvanized Posts For The Line Posts And For The Top Rail
2 overlapping layers of 39 inch 12 1/2 gauge galvanized Field fence works great for keeping deer out, giving you a finished height of 6ft.

The Line posts are usually a 96 inch T post driven into the ground approximately 22 inches and spaced 12-13 feet apart like on our standard height field fence, these can be T-125 or a heavy T-133, they come in green only with white tops and are driven into the ground with a t-post pounder.

For corners and ends we use 2 3/8 inch heavy galvanized pipe with angle braces concreted with a thrust block to prevent pull over.


Deer Gates
Gate posts are generally 2 7/8 inch for walk gates and 4 inch to 6 5/8 inch for real large and heavy gates up to 14 ft.

A 12 ft. in length
Custom galvanized deer drive gate
Requires a 4 inch steel gate post with bull dog hinges and a galvanized lockable latch.

A 14 ft. to 16 ft. custom galvanized deer drive gate requires a 6 5/8 inch gate post with bull dog hinges and a galvanized lockable latch. Gates are custom built by Valley Fence LLC of Spokane WA to match your fence design.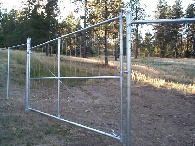 Gates To Keep Deer Out, With The Same Mesh On The Gate As On The Fence

The ends are also fashioned with bands and a tension bar to give your deer fence a smooth finished look.


Deer Garden Fences
Garden and Deer fencing can serve many purposes, but one of the best is to accent and define areas of your garden.

Whether you choose a six or seven foot high fence a garden fence can add a beautiful accent to your landscaping.

Take a look at some novel, unusual ways to use garden fencing to make your garden a showplace that will be the envy of the neighborhood.

Planting fruit trees around the inside perimeter is always a nice look.

Deer fencing varies in terms of cost
"invisibility," effectiveness and durability
Conventional deer fencing is made of a heavy metal: it's effective and durable, but it is a relatively expensive investment.

Their are many types of deer fencing, we have found that a mesh or fabric of 6 ft. height keeps most deer out providing they are not cornered or pushed.


Corner Support For A Deer Fence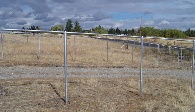 2 layers over lapping layers of 39 inch field fence
with a 1 5/8 inch top rail for a 6 ft. finish.

If you need a taller then 6 ft. deer fence for garden area we use 2 3/8 galvanized line posts and a 1 5/8 galvanized top rail with 2 layers of 47 inch field fence giving you a 7 ft. 10 inch or so finished look, but this method is material heavy and labor intensive, so it can add up fast.



8 ft. tall gates can also be used to accommodate the taller fencing, the mesh on the gate would match the fencing design used, quality gates and gate posts can add up quickly.

A 10 acre piece of property squared is approximately 2,640 ft. around the perimeter.